Stomping with Urza
It's no secret that two of my favorite decks are Steel Stompy and Bomberman. I love the proactive, powerful nature of these decks, but what keeps me interested is that these are the Chalice decks that provide the most agency. The decision trees of exactly what to sacrifice to Arcbound Ravager, when to (or not to) crack Urza's Bauble, or which card to Wish for with Karn, the Great Creator are interesting, challenging decisions and often come close to breaking my brain (in a good way). Directly opposing the adage that Chalice decks are easy, this subset of Chalice deck is, in my opinion, more challenging to play optimally than most fair Blue decks. The mulligan decisions are tougher, the decision trees have far too many permutations to run through every option, and small errors in sequencing are more likely to lose you games that you could have won. Unfortunately, there are confounding factors getting in the way of me focusing on these decks for my MTGO play.
For Bomberman, the main issue is that I do a lot of my MTGO playing on a touchpad. While I can execute a Auriok Salvagers / Lion's Eye Diamond loop in about 5-6 minutes with a mouse, it's almost impossible on a touchpad. This compounds even further if I have to loop a Bauble and draw a bunch of cards (in paper it's just "draw my deck minus two cards"). This makes playing Bomberman online more of a commitment than something I can do casually from the comfort of my bed or couch.
Steel Stompy doesn't have a manual dexterity issue, but a metagame positioning one. Our new friend Wrenn and Six is really challenging to play against. Its +1 ability turns a Wasteland into a Waste-lock, and its -1 kills most creatures the deck presents. Compound that with Plague Engineer, Collector Ouphe, and Karn, the Great Creator, and the hate feels like too much. The combo matchups are still positive, but the fair matchups feel like they shifted from close to unfavorable, despite the relative power of Chalice of the Void.
I want to play a Chalice deck that doesn't care about Wrenn and Six, and isn't particularly soft to Wasteland. Null Rod / Collector Ouphe are less ubiquitous, and I'm okay struggling against them when they come up. Legacy is a format where no matter what you want to do, the answer to it exists. When I'm trying to figure out a deck to play, I'd rather position it to be good against the more broad-spectrum forms of interaction people are playing, the "hottest" currently being Wrenn and Six and Lightning Bolt / Thoughtseize via Dreadhorde Arcanist. When I lose to narrower cards with the purpose of beating the deck I'm playing, so be it. When I'm losing to the broad-spectrum interaction, I probably made a poor metagame call.
All of this to say that I want to play a Chalice deck with a plethora of decision trees that isn't particularly vulnerable to Wasteland or Lightning Bolt. In short, this means Basic Lands and 4-toughness creatures.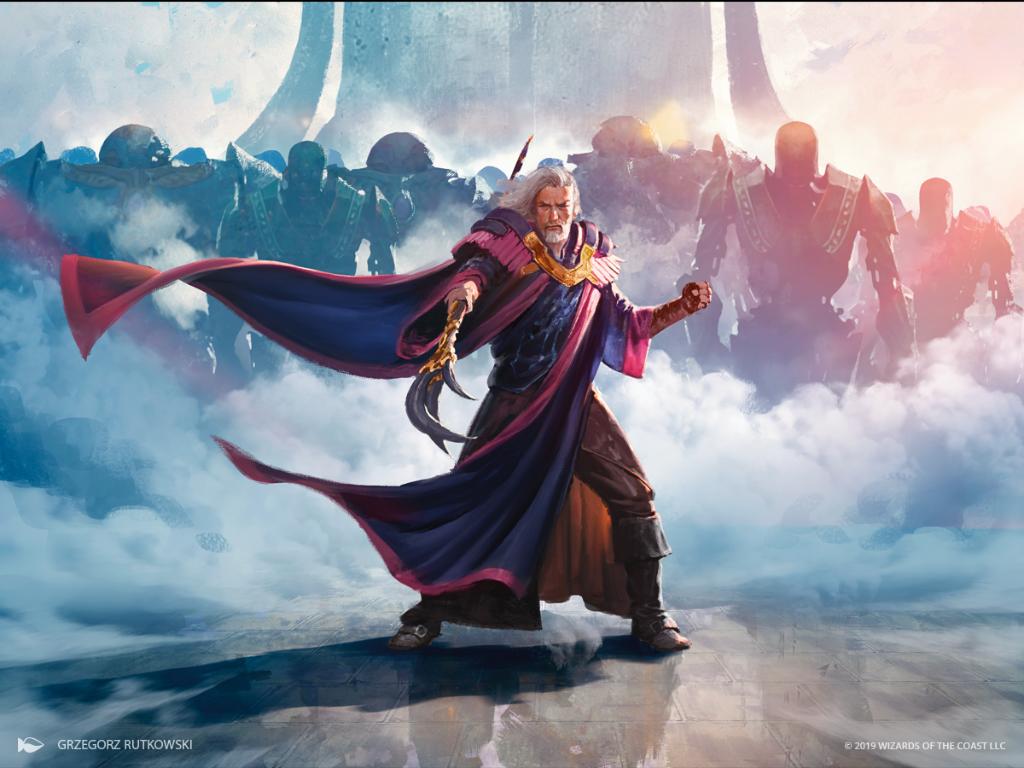 Urza, Lord high Artificer
2UU
Legendary Creature - Human Artificer
When Urza, Lord High Artificer enters the battlefield, create a 0/0 colorless Construct artifact creature token with "This creature gets +1/+1 for each artifact you control."
Tap an untapped artifact you control: Add : Shuffle your library, then exile the top card. Until end of turn, you may play that card without paying its mana cost.
1/4
When I reviewed Modern Horizons, I said that Urza, Lord High Artificer might be able to spawn "Blue Bomberman" deck, potentially even with Echo of Eons. Turns out these decks do exist! Michael Coyle a.k.a. "Susurrus_MTG" and MTGO player "slyguy183" both brewed up versions of Urza Stompy. Susurrus's list is more about finding the right lockpiece, while slyguy183 is all about doing broken stuff with Lion's Eye Diamond, Echo of Eons, and Narset, Parter of Veils.
Urza Stompy by Michael Coyle
Creatures
4
Urza, Lord High Artificer
Planeswalkers
Lands
Urza LED Echo by slyguy183
Creatures
4
Urza, Lord High Artificer
Artifacts
The Michael Coyle / Susurrus version of this deck is a Trinket Mage toolbox deck. In addition to the 12 powerful 4-drops, it also plays a full Trinket Mage playset to tutor up whatever answer best suits your boardstate. The cards explicitly in the deck as tutor targets are Engineered Explosives, Pithing Needle, Tormod's Crypt, and Welding Jar, but Walking Ballista and Chalice of the Void are frequently chosen targets as well. Don't forget that you can also tutor up a Seat of the Synod. Come watch me take this deck for a spin through a MTGO league!
The core of the Echo of Eons variant is similar to the Susurrus list, but instead of the Trinket Mage toolbox, the deck plays Lion's Eye Diamond and Echo of Eons, taking advantage of the mana rocks such as Mox Diamond, Lotus Petal, and Chrome Mox, as well as Urza, Lord High Artificer's knack for turning every artifact into a Mox Sapphire.
With a full playset of Narset, Parter of Veils in the deck, you can turn Echo of Eons into a pseudo Mind Twist, leaving your opponent with no graveyard and one random card in hand. Come watch me play a league with this variant below!
As I assess the LED / Echo list, I love how powerful the Echo aspect is, but am a bit afraid of actually casting Echo against Blue. It is vulnerable to Force of Will on both the initial LED activation, since discarding your hand commits you fully, and on the refill, since in your opponent's 7 cards, they're 40% to have a fresh Force of Will, and likely have additional ways to interact, such as Spell Pierce or Daze.
Defense Grid is going to be this deck's best line of, um, defense. Since Urza, Lord High Artificer can tap it for U, its cost of inclusion is fairly low, and I think the deck wants 4 in the 75. My starting point would be 2 maindeck and 2 sideboard.
As you saw in the video, I was looking at Dismember as a way to answer cards like Collector Ouphe, but I think a better card for the situation would be to put Skysovereign, Consul Flagship into the sideboard, where you can use Karn, the Great Creator to wish for it as early as Game 1.
Chrome Mox underperformed in the list, and Mox Diamond didn't always have an extra land to pitch. Perhaps it is worth cutting the Chrome Moxen entirely and adding an extra land, like a Karakas, but I like to iterate in baby steps.
For my next league with the deck, I will register this:
Urza LED Echo v2
Creatures
4
Urza, Lord High Artificer
Planeswalkers
Spells
Artifacts
Lands
Sideboard
1
Skysovereign, Consul Flagship
I hope you enjoyed these leagues and got to see the power of these decks in action! I believe that both of these lists can be further customized and refined, and I'm excited to see where this archetype ends up.
Written by Max